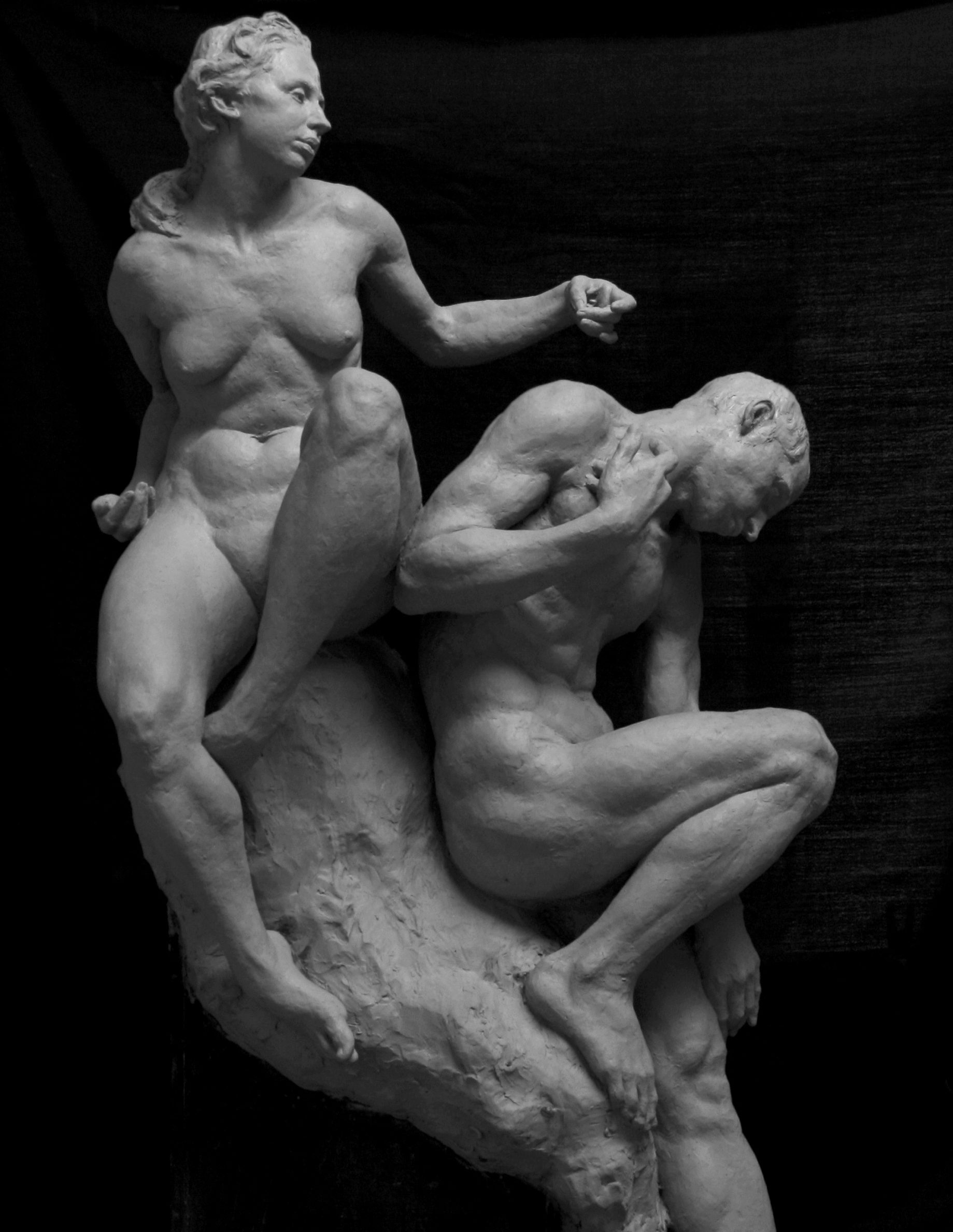 Designing the Pose: A Figurative Sculpture Workshop with Alicia N. Ponzio
Instructor: Alicia N. Ponzio
Dates:  August 14-18, 2023
Times: 9 am–4 pm (break 12–1 pm)
Workshop Location: Chandler Studio, Lyme Academy of Fine Arts
Levels/Ages: This workshop is open to all levels, ages 15+.
This workshop has reached capacity. To be added to the waitlist, email info@lymeacademy.edu.
SOLD OUT
In this hands-on studio workshop, students will have the opportunity to model a 24-inch clay figure from life. Students will begin by creating small, quick sketches from several 30-minute live model poses, choosing one of these to develop on a wire armature in clay. The instructor will then guide students through a three-stage method of figure modeling, which will include an introduction to proportions, maximizing the gesture, finding the contours, and realizing the full three-dimensionality of the form. In order to demonstrate each concept and help students bring their individual works to a successful resolution, the instructor will work alongside the students on a demonstration piece. Brief lectures, demonstrations, and individual feedback will also be provided.
All levels are welcome.
*Note: This workshop does not include final castings of completed works. Students are encouraged to do this independently.
Alicia N. Ponzio began her career as a Lieutenant in the United States' Navy Nurse Corps. After experimenting with various mediums in figurative art, she found her expressive voice in sculpture. She completed her artistic training at the Florence Academy of Art (FAA) in Florence, Italy, completing the Sculpture Program in 2008. She was then the director of the Artistic Anatomy and Écorché Sculpture programs and a figure drawing instructor at the FAA until 2011, when she returned to the United States and set up her studio in downtown San Francisco. Since then, she has studied and practiced foundry work at The Crucible in Oakland, California, where she continues to cast her bronzes. Alicia brings life to her bronzes and plasters through a focus on the abstract movement of forms as embodied in the human figure, as well as the subtle shades of human emotion.
Her figure compositions and portraits have received recognition and honors from several organizations, including the Art Renewal Center, the Catharine Lorillard Wolfe Art Club, The Portrait Society of America, The California Art Club, and The National Sculpture Society, from which Alicia received the Alex J. Ettl Grant in 2016. She is a fellow and board member of the National Sculpture Society, and a Signature Member of the Portrait Society of America. In 2018, Alicia installed a life-size bust of Maestro Giancarlo Guerrero in Nashville's Schermerhorn Symphony Center, in addition to completing a commemorative medallion for the Brookgreen Gardens sculpture collection in South Carolina.
She currently works with Figure Ground Gallery in Seattle, while also creating works on commission for private collections. Alicia teaches at her home base in San Francisco and at various studios nationally and internationally. She has designed and presented courses at Pixar Studios, the Florence Academy of Art, the University of Calgary Faculty of Medicine, Brookgreen Gardens, the Rome Art Workshops, the Scottsdale Artists' School, and many more.
Instagram @alicianponzio
Facebook @Alicia N Ponzio, @Alicia Ponzio
Web: aliciaponzio.com