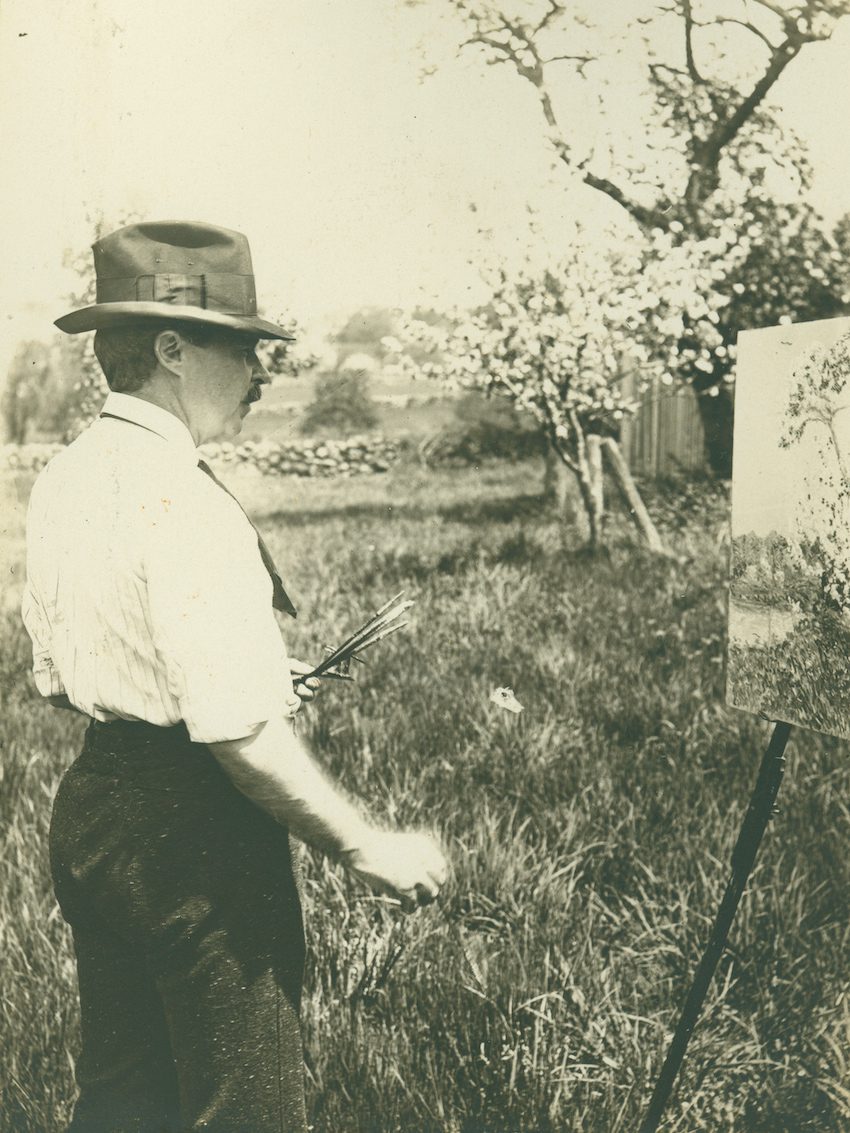 The Spirit of Place: Reflections on the Arts in Old Lyme with Jeffrey Andersen, Director Emeritus, Florence Griswold Museum
Join us for this free lecture, open to the public, limited seating available.
This illustrated talk will focus on the history of the Florence Griswold Museum from its origins as one of America's largest art colonies to its current role as an art museum serving the community and region.  Andersen will talk about his personal journey, arriving in Old Lyme at the age of 23 in 1976, the same year that Elisabeth Gordon Chandler founded the Lyme Academy of Fine Arts. When Andersen took up the post of director of the Florence Griswold House, he was the only employee. Over the next four decades, working closely with board members, volunteers, and a burgeoning staff, he led its transformation from a seasonal historic house attracting fewer than 1,000 visitors annually to an accredited art museum with a staff of 20 and over 70,000 visitors annually. Andersen will share reflections on the arts in Old Lyme past and present, offering a perspective that its "spirit of place" is the defining characteristic of the town.
Artist Bio
Jeffrey Andersen served as Director of the Florence Griswold Museum from 1976 to 2018. A native of Northern California, Andersen holds an M.A. in Museum Studies from the Cooperstown Graduate Program (SUNY-Oneonta), Cooperstown, New York and a B.A. in History from Lewis & Clark College in Portland, Oregon. In 2016, the New England Museum Association awarded Andersen its Lifetime Achievement Award in recognition of his work on behalf of museums in New England.  In 2019, Andersen received an Honorary Doctor of Fine Arts from the Lyme Academy College of Fine Arts of the University of New Haven.  He currently chairs the Executive Committee for the Historic Artists' Homes and Studios, a program of the National Trust for Historic Preservation.
​This artist talk is made possible by the generous support of the Robert Lehman Foundation
Parking Information and Campus Directions
Coming from I-95, on Lyme Street, enter the first parking lot on Lyme Academy's campus. The Southwick Keller studio will be to your right as you enter the building under the wood sign, and Cast Hall.
COVID-19 Policy
Guests will be required to show proof of vaccination. The Lyme Academy of Fine Arts has removed the mask mandate for students, staff, faculty, models, and visitors inside of our buildings. 
The health and safety of our guests are of the utmost importance. We are regularly monitoring the guidelines of the CDC and will adjust our policies accordingly.